The Andreas Schmid Group delivers CO2-neutral with electric cargo bikes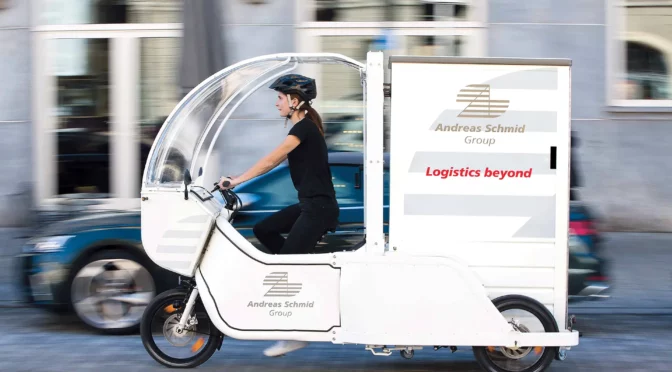 Starting now, the Gersthofen-based traditional company is using the latest generation of electric cargo bikes. The cargo bikes are powered by two high-performance batteries that allow a payload of up to 180 kg. The cargo is transported in an intelligent swap container system that is infinitely scalable. The dimensions of the bike are chosen so that it can be driven everywhere, especially on bike paths, and still provide up to 2 cubic meters of storage space.
The constant congestion of streets in the city center and the continuously growing e-commerce share in logistics means that we need to rethink processes on the last mile. "Mobility and environmental protection are increasingly going hand in hand, and we want to ensure that the residents of the city center have access to the highest quality logistics supply that does not come at the expense of air quality." (Alessandro Cacciola, CEO of Andreas Schmid Group)."
Since this month, Andreas Schmid Group has been testing e-cargo bikes in the city center as a replacement for conventional trucks. The goods are delivered in the morning to a central point (micro-hub) close to the center and then delivered to the city center using the e-cargo bikes. The transport to the micro-hub will also be CO2 neutral in the future using an e-truck, once it is available.
And that's not all: With the Andreas Schmid Lab, the company is working on further intelligent projects and service offerings for sustainable optimization of inner-city logistics. "At the moment, it is still a small step, but we are already thinking ahead and are confident that something big will come out of it!
We are delighted to be a pioneer in Augsburg with this initiative and to contribute to environmental protection. We hope that many companies in our market environment will be motivated to use solutions that bring improvements in the quality of life and logistics in the city center."
About Andreas Schmid Group
The Andreas Schmid Group is a leading expert for customised logistics solutions in Germany and abroad. Since 1928, the family-owned company from Gersthofen near Augsburg has focused on the sustainable success of its customers and is today considered a pioneer for the logistics of tomorrow. With 1,600 employees, the Andreas Schmid Group operates 260,000 m² of logistics space at over 30 locations in Germany, the Czech Republic, Hungary, Romania, and Slovakia. With its own Innovation Lab, a creative agency and a personnel service provider, the Group's portfolio goes far beyond classic transport and logistics services – in line with the motto #logisticsbeyond.
For more information, visit www.andreas-schmid.de.