Recruiting Success through Personality and Vision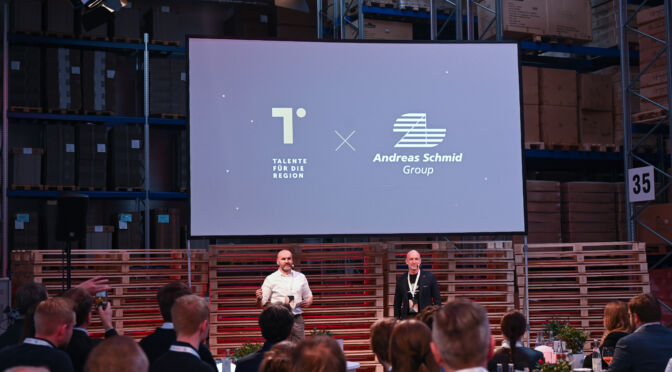 Gersthofen, 24.03.2023. The Andreas Schmid Group hosted the 24th event of Talente für die Region. Over 150 people were guests in the modern logistics hall in Gersthofen on 23 March 2023. The networking event brings together entrepreneurs, the region's best students, sports stars and start-ups from the region.
Companies that want to attract young talent today have to find creative ways. At the networking events organised by Talente für die Region, participants exchange ideas personally and on a equal level. Christian Gebler, founder of the network, wants to motivate companies to rethink recruiting in this way: "You have to approach things differently today, ask differently: first who, then what. That means you have to look at the personality first. Skills are secondary, because what you can't do, you can learn."
According to the Federal Statistical Office, employment in Germany in 2022 is at its highest level since German unification. The demand for new staff remains just as high. It is more important than ever for companies to stand out from the competition in order to attract talent. In his speech at the networking event, Alessandro Cacciola, CEO of the Andreas Schmid Group, explains how the logistics service provider succeeds in this: "We first talk about the "why" before we talk about how we do something or what we do. Young people want to understand the meaning of their work and we explain that with our corporate vision".
The shortage of skilled workers is and remains one of the biggest challenges for the logistics industry. The Andreas Schmid Group recognised the problem early on and took action. "We have invested a lot in personnel development and benefits in recent years," says Cacciola. "Today, our colleagues benefit from bike leasing, company fitness and individual training opportunities, for example. In December 2022, our talent programme was launched. Thereby we strengthen talented and motivated colleagues in their current and future professional and leadership roles."
Through the Talents for the Region event, the Andreas Schmid Group now hopes to attract even more students. The atmospherically lightened, modern logistics hall was just as convincing as the inspiring evening programme. In addition to a pitch by the logistics start-up aluco, wrestling world champion Frank Stäbler told his motivating story of success. As a surprise, the talented magician Phil Rice enchanted all participants at the end of the evening.
About Andreas Schmid Group
The Andreas Schmid Group is a leading expert for customised logistics solutions in Germany and abroad. Since 1928, the family-owned company from Gersthofen near Augsburg has focused on the sustainable success of its customers and is today considered a pioneer for the logistics of tomorrow. With 1,600 employees, the Andreas Schmid Group operates 260,000 m² of logistics space at over 30 locations in Germany, the Czech Republic, Hungary, Romania, and Slovakia. With its own Innovation Lab, a creative agency and a personnel service provider, the Group's portfolio goes far beyond classic transport and logistics services – in line with the motto #logisticsbeyond.
For more information, visit www.andreas-schmid.de.