Andreas Schmid Group is one of the best companies for apprenticeship in Germany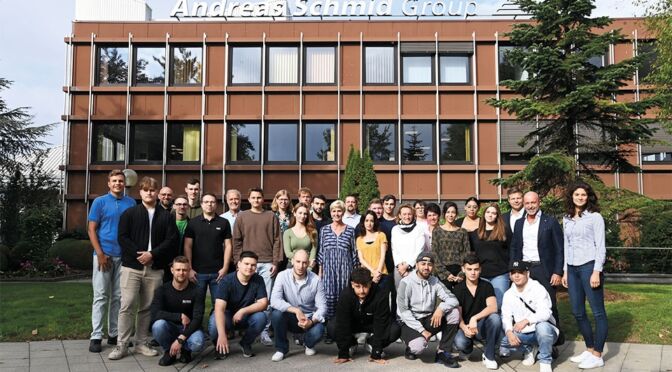 The Andreas Schmid Group's commitment to its trainees is paying off. In the "Best Trainers" ranking published in the Handelsblatt on 17 November, the logistics company is one of the winners in 2022.
The market research company SWI Finance determined the companies with the best training on behalf of the Handelsblatt. Out of more than 2,800 participating companies, 250 companies were honoured in the area of training. The Andreas Schmid Group achieved an excellent ranking in 16th place in the category of companies with more than 1,000 employees.
With a total of 65 trainees, the Andreas Schmid Group is one of the largest training providers in Bavarian Swabia. CEO Alessandro Cacciola says: "We are very pleased about the award. At Andreas Schmid, a lot of emphasis has always been placed on training. Our apprentices are our future, so we do everything we can to offer the young talents an excellent education."
The Andreas Schmid Group trains in seven different apprenticeship professions and in two dual study programmes. With a high acceptance rate of around 95%, a regulated daily training routine and individual support opportunities, the logistics company offers trainees the prerequisites for a successful start to a professional life with future prospects.
In addition to the numerous employee benefits that the trainees can already take advantage of during their training, there are special additional support offers. With access to the learning app simpleclub, the young talents can prepare for the exams at the vocational school. A personality seminar according to the DISG model supports them in their individual development.
A detailed report of the study results can be found at www.handelsblatt.com.
Further information about the training can be found at https://karriere.andreas-schmid.de/ausbildung-studium.
About Andreas Schmid Group
The Andreas Schmid Group is a leading expert for customised logistics solutions in Germany and abroad. Since 1928, the family-owned company from Gersthofen near Augsburg has focused on the sustainable success of its customers and is today considered a pioneer for the logistics of tomorrow. With 1,600 employees, the Andreas Schmid Group operates 260,000 m² of logistics space at over 30 locations in Germany, the Czech Republic, Hungary, Romania, and Slovakia. With its own Innovation Lab, a creative agency and a personnel service provider, the Group's portfolio goes far beyond classic transport and logistics services – in line with the motto #logisticsbeyond.
For more information, visit www.andreas-schmid.de.