After almost 10 months, the latest logistics center of Andreas Schmid Logistik AG is completed in Gersthofen.
The completion of Hall 11 in the Gersthofen industrial estate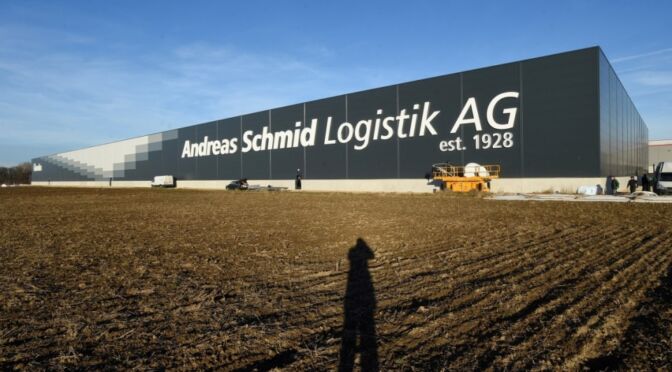 Nach knapp 10 Monaten Bauzeit ist es geschafft, das neueste Logistikzentrum der Andreas Schmid Logistik AG, der Neubau der Halle 11 mit einem angrenzenden Bürokomplex ist fertiggestellt. Ab sofort stehen hier 16.000 qm brandneue Logistikfläche für neue Projekte und Aufträge zur Verfügung Damit erweitern wir unsere Gesamtkapazitäten auf insgesamt 260.000 Quadratmeter. Ein großer Teil der Halle verfügt sogar über eine Zulassung zur Lagerung von wassergefährdenden Stoffen (WGK), eine Besonderheit im Angebot der Kontraktlogistik. Ein weiteres Highlight ist die neue mit LED beleuchtete Fassade, deutlich sichtbar von der Autobahn A8 und laut Vorstand Gianluca Crestani ein designtechnisches Highlight. Rüdiger Kast, Geschäftsführer Immobilien, ist froh, dass der Bau nach Plan verlief: "Die Halle 11 ist die technisch hochwertigste Immobilie in unserem Portfolio. Sie verfügt über einen hohen Sicherheitsstandard und energiesparende Technik. Die Hallenbeleuchtung aktiviert sich beispielsweise nur in den Bereichen, in denen sich gerade Menschen aufhalten oder Stapler bewegen." Auch die Kollegen der Kontraktlogistik freuen sich über die Fertigstellung, sie zogen nämlich im Februar 2017 in die neuen Büroräume in der Daimlerstraße ein.
About Andreas Schmid Group
The Andreas Schmid Group is a leading expert for customised logistics solutions in Germany and abroad. Since 1928, the family-owned company from Gersthofen near Augsburg has focused on the sustainable success of its customers and is today considered a pioneer for the logistics of tomorrow. With 1,600 employees, the Andreas Schmid Group operates 260,000 m² of logistics space at over 30 locations in Germany, the Czech Republic, Hungary, Romania, and Slovakia. With its own Innovation Lab, a creative agency and a personnel service provider, the Group's portfolio goes far beyond classic transport and logistics services – in line with the motto #logisticsbeyond.
For more information, visit www.andreas-schmid.de.