A Street in Gersthofen in honor of Andreas Schmid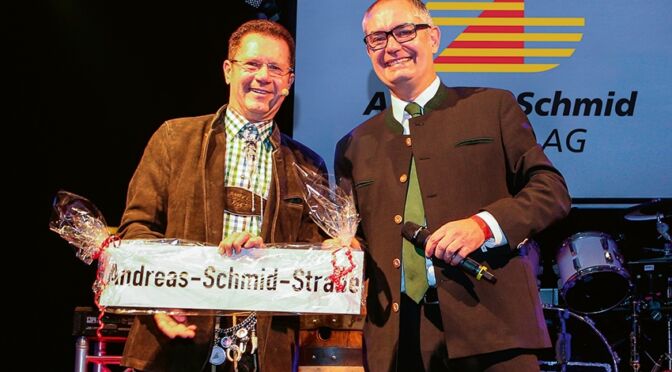 In November, the Gersthofen city council decided with a large majority to rename parts of Welserstraße to Andreas-Schmid-Straße. The mayor Michael Wörle and parts of the city council announced this decision officially in person during a company celebration.
With this renaming, the city council honors the company founder Andreas Schmid for his visionary decision to choose Gersthofen as an ideal location for logistics companies in the Augsburg economic region in 1955. At the same time, according to the mayor Michael Wörle, the renaming of the street documents the economic importance and the social and cultural commitment of the company group for the city of Gersthofen, as well as the city and district of Augsburg.
The renaming of the street name is all the more remarkable as this process is associated with extremely high decision barriers and is examined by the cities and municipalities in Germany with the highest sensitivity. In addition to many other criteria, the namesake must have achieved outstanding entrepreneurial performance, and the company itself must have an outstanding radiation effect far beyond the city limits. The city council evaluated all the necessary criteria as more than fulfilled in this case.
Owner Alfred Kolb, as well as the board members Gianluca Crestani and Herbert Robel, thank the city council of Gersthofen for this unique award. "It fills us with pride and is also a confirmation of our entrepreneurial and ethical values. In this sense, we would also like to thank our neighbors, who also fully supported the renaming of the street name. However, the greatest thanks goes to all of our employees. With their daily work, they embody the spirit of our company in a unique way! It fills us with gratitude and pride to have reached another milestone in our company development together with them through the future Andreas-Schmid-Straße."
About Andreas Schmid Group
The Andreas Schmid Group is a leading expert for customised logistics solutions in Germany and abroad. Since 1928, the family-owned company from Gersthofen near Augsburg has focused on the sustainable success of its customers and is today considered a pioneer for the logistics of tomorrow. With 1,600 employees, the Andreas Schmid Group operates 260,000 m² of logistics space at over 30 locations in Germany, the Czech Republic, Hungary, Romania, and Slovakia. With its own Innovation Lab, a creative agency and a personnel service provider, the Group's portfolio goes far beyond classic transport and logistics services – in line with the motto #logisticsbeyond.
For more information, visit www.andreas-schmid.de.