Employees of Andreas Schmid Group give gifts to children in need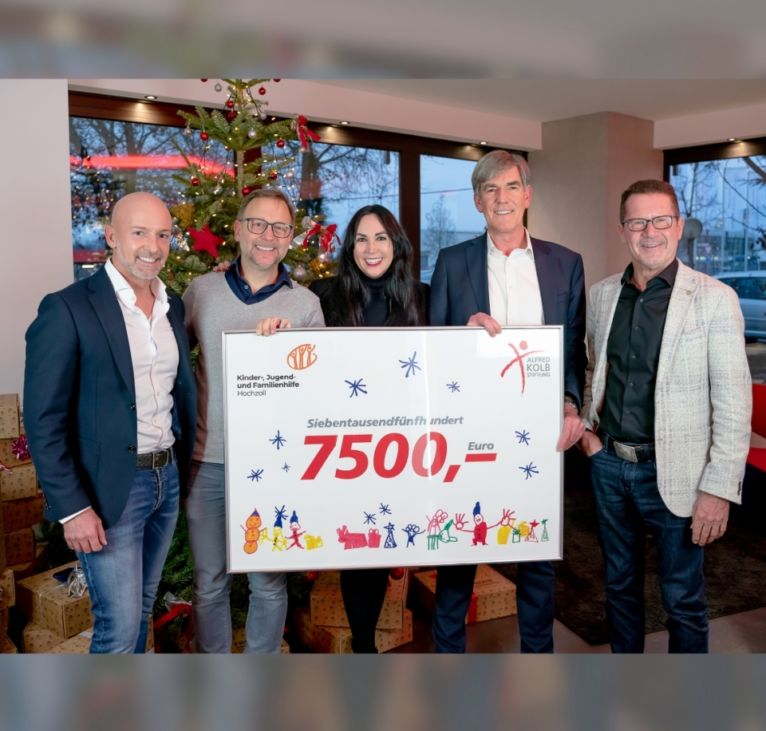 In a Christmas campaign, the employees of Andreas Schmid Group have packed 130 Christmas boxes for children and teenagers in need. This year, all children receiving outpatient care in the Kinder-, Jugend- und Familienhilfe in Hochzoll will receive a Christmas gift.
The idea behind this year's Christmas campaign of Andreas Schmid Group is that every child should be able to unwrap a gift at Christmas. The medium-sized company from Gersthofen has been supporting the Kinder-, Jugend- und Familienhilfe in Hochzoll through the Alfred Kolb Foundation under the patronage of Sabine Kolb for many years. In addition to a monetary donation for necessary renovation work on the premises, the logistics company was concerned with directly supporting the children and teenagers. The management ordered Christmas boxes and invited the employees to voluntarily pack a gift for a specific child. Alessandro Cacciola, CEO of Andreas Schmid Group, is enthusiastic about his employees' commitment: "We were already looking forward to the campaign in advance. The enthusiasm and creativity of our colleagues exceeded my expectations. I am proud of what we have achieved together."
An individual gift box for each child
The content of the boxes depends on the age of the recipients. For the youngest, from three months old, cuddly toys and baby toys, for example, were packed. The oldest, at 18 years old, can look forward to things like small handbags, caps, or headphones. Ulrich Lorenz, head of Kinder-, Jugend- und Familienhilfe Hochzoll, is already looking forward to handing over the packages to the recipients. "Many of the children and teenagers live in difficult family situations and otherwise miss out on Christmas. The Christmas packages are so lovingly packed that there will be great joy," says Lorenz and adds, "We are very grateful to have such a reliable and long-standing partner at our side in Andreas Schmid Group, where supporting the children in a meaningful way is always the focus."
About Andreas Schmid Group
The Andreas Schmid Group is a leading expert for customised logistics solutions in Germany and abroad. Since 1928, the family-owned company from Gersthofen near Augsburg has focused on the sustainable success of its customers and is today considered a pioneer for the logistics of tomorrow. With 1,600 employees, the Andreas Schmid Group operates 260,000 m² of logistics space at over 30 locations in Germany, the Czech Republic, Hungary, Romania, and Slovakia. With its own Innovation Lab, a creative agency and a personnel service provider, the Group's portfolio goes far beyond classic transport and logistics services – in line with the motto #logisticsbeyond.
For more information, visit www.andreas-schmid.de.
About the Kinder-, Jugend- und Familienhilfe Hochzoll
The Kinder-, Jugend- und Familienhilfe Hochzoll is a competent, experienced, and innovative partner for youth services in the Augsburg region. In addition to the children's home with several residential groups, the social institution also provides outpatient support to many children and adolescents and their family systems through self-help assistance. For more information about the institution and its diverse projects, please visit www.kinder-jugendhilfe-augsburg.de.
About the Alfred Kolb Foundation
Since 2008, the Alfred Kolb Foundation has been supporting needy children and young people in their education, training, and social needs. As a charitable and non-profit foundation, it is primarily active in our home region of Augsburg. For foundation founder Alfred Kolb, as the owner of the Andreas Schmid Group, it has always been a concern to actively live and implement the social responsibility of his company. Learn more at www.ak-stiftung.de.