Ready to take on the challenges of tomorrow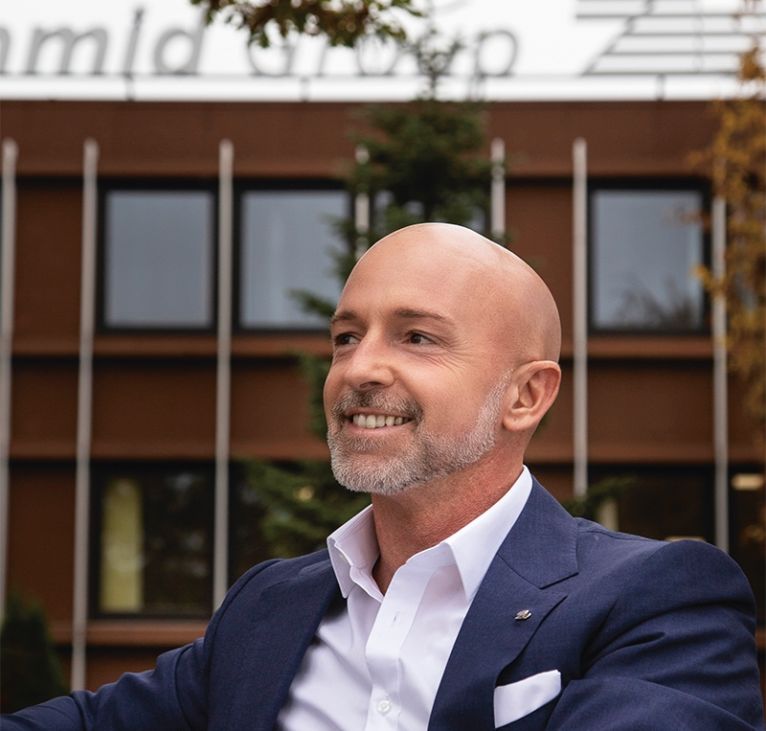 2021 – Even though the tide of the pandemic is now slowly turning, the impact is still being felt across the logistics sector. In an interview, CEO Alessandro Cacciola explains how the Andreas Schmid Group has managed to come through this turbulent year stronger than ever.
Mr Cacciola, the second year in the shadow of the pandemic is gradually coming to an end. Which three words most aptly describe the year 2021 for you personally?
There are many words that would describe this year well. The first that comes to mind is the word volatility, followed by cohesion and flexibility. The second year in a pandemic, the extent and developments of which no one was quite able to foresee, once again presented us with an uncertain set of circumstances. Cohesion was and remains the crucial factor that gives us the necessary stability – even in uncertain times. One wave of corona followed the next and the economy had to grapple with more than its fair share of ups and downs. We too had to adapt flexibly to the constantly changing circumstances and weather the storm. And this much I can say in advance: we have managed to come through this year with flying colours.
Are you therefore satisfied with the Group's business performance?
The first six months of the year were strongly impacted by the pandemic, which was reflected in our B2C business in particular. Online commerce is booming and we are noticing that in both Network Forwarding and Contract Logistics. The increased volume of shipments in this line of business posed an immense challenge for us, but at the same time it made up for other lines that were on the decline due to the corona situation. Nevertheless, we managed to remain stable and provide our customers with the usual level of quality. The other business units also performed well for the most part. A/S Logcare, for instance, increasingly needed to deploy temporary staff, similar to the previous year. A lot also happened this year at Quentia, our IT company, where things are developing in a highly promising new direction from a strategic point of view. Although, in retrospect, the year was marked by a great many challenges, we are pleased with the overall positive business performance.
Which challenges did you have to deal with this year?
The greatest challenge for us at the moment is simply the unpredictability. The pandemic has shown how quickly situations can change and that's why it is all the more important for us to be able to adapt in a flexible manner. We have succeeded in remaining focused on the future, even in extreme situations – be it the limited storage capacities, maximum fluctuations in transshipment, or the huge increases in freight prices, especially in air and sea freight. Similar to running training, where you can gradually raise your stress threshold by repeatedly testing your limits, we are emerging from the pandemic stronger than ever. The extreme conditions of the last few months have often brought us close to breaking point and compelled us to respond more flexibly than ever with even smarter solutions. This testing time has made us a better team overall and we feel very well prepared to tackle the challenges of tomorrow.
Which strategic milestones were you able to reach with your team?
The three topics of HR development, digitization and internationalisation were at the top of our agenda. In HR, we are pleased to have an expert for human resources development on board since the beginning of the year. We are aware that continuous learning is the key to success, both now and in the future. For this reason, the promotion and development of our employees has a high priority at Andreas Schmid. This year, with our specialised technical and leadership training courses, we laid the foundation for offering our staff members exactly the development opportunities they need going forward. We have made a number of improvements in terms of employee benefits and perks such as bike leasing were met with a great deal of enthusiasm. The topic of digitization continues to have the highest priority at Andreas Schmid. Firstly, our newly established RPA team, which focuses on the automation of business processes, is worthy of special mention. Secondly, this year we have made great progress in the Groupwide introduction of collaborative applications such as Microsoft Teams and completely digitized all our telephone systems at the same time. Our Sales team is now benefiting from an innovative CRM solution and the new WMS system for Contract Logistics has opened up a range of completely new possibilities. We have also made some great advances in terms of internationalisation and expansion during 2021. The further expansion of our European partner network has enabled us to significantly grow our international business, despite the impact of the pandemic. In order to keep apace with the increasing demand in the Czech Republic, we began enlarging our logistics centre in Prague this year. In the coming year we will be able to offer our customers smart logistics services on 6,500 square metres of industrial space. I am particularly pleased that we have established a new foreign location in Hungary this year and operations are due to begin there shortly. We are, of course, also researching and developing new lines of business that meaningfully broaden our core logistics capabilities and are working hand in glove with Andreas Schmid Lab to achieve these aims. This year, for example, we celebrated the market launch of EXELTS and AS Drone Services as we entered the field of funeral logistics and the future field of autonomous drones.
What has made you particularly proud in 2021?
I am particularly proud of our staff and their team spirit, which enabled us to master the challenges of this turbulent year. Especially during a pandemic, it is vital to stick together and tackle difficult situations as a team. I am very happy that we are able to rely on one another at Andreas Schmid. Thanks to the support of each and every one of us, we were able to achieve much of what we set out to do this year, despite having to deal with some of the most adverse circumstances. Therefore at this point I would like to specially thank all of our colleagues. Let's look at next year.
Which topics will you be focusing on in the coming year?
Next year, we intend to pick up exactly where we left off this year – and hopefully under better circumstances. Alongside some fascinating inhouse projects, we are set to push ahead with our activities in the field of HR development and continue to leverage the potential of digitization. We will continue to pursue our course of growth and expansion, focusing on laying a solid foundation for the newly formed companies both in Germany and abroad and establishing them in their respective markets. It is also important for us to make further progress in achieving our sustainability goals and thus make a valuable contribution to protecting the climate and the environment.
Which challenge are you particularly looking forward to?
In recent years, we have set the course for the future in key matters. We have launched some innovative projects and driven them forward with a great deal of commitment. If you set your sights high, you will, of course, always come up against obstacles that need to be overcome. Therefore, our biggest challenge will be to overcome the minor and major barriers to achieving our goals in a calm, focused manner. I am highly confident that we will succeed together and, pandemic conditions permitting, I look forward to finally being able to properly celebrate our joint success again in person with all concerned.
About Andreas Schmid Group
The Andreas Schmid Group is a leading expert for customised logistics solutions in Germany and abroad. Since 1928, the family-owned company from Gersthofen near Augsburg has focused on the sustainable success of its customers and is today considered a pioneer for the logistics of tomorrow. With 1,600 employees, the Andreas Schmid Group operates 260,000 m² of logistics space at over 30 locations in Germany, the Czech Republic, Hungary and Romania. With its own Innovation Lab, a creative agency and a personnel service provider, the Group's portfolio goes far beyond classic transport and logistics services – in line with the motto #logisticsbeyond.
For more information, visit www.andreas-schmid.de.